Summer Drink Recipes
HEY, it was actually sunny and warm out today, which energized me a bit! I finally got out and did some weeding in my garden, which is so delayed for me because I am usually out there chomping at the bit to plant flowers in early May. I seriously LOVE gardening- it is so calming, and I love how flowers make everything look so cheery. BUT, with all of the uncertainty of what was going on with our current house, I kind of held off...PLUS, I have been lacking some major energy lately because of all of the stress of looking for builders and talking to banks to get the moving process going. ADULTING is no joke here people, LOL. Which is why sometimes I just need to relax with a good cocktail!
Every summer, I like to find a delicious new drink to enjoy on a hot day. SO, I decided to do some research on some FUN drink recipes. AND, man have I poured over recipe after recipe the past few days! There are SOOO many yummy ideas out there! I am usually pretty much a wino in all seasons, but there's just something about summer that makes me want to switch things up and try something new! Check out the top 5 recipes that I found that I think look DELISH...
1. Watermelon Sangria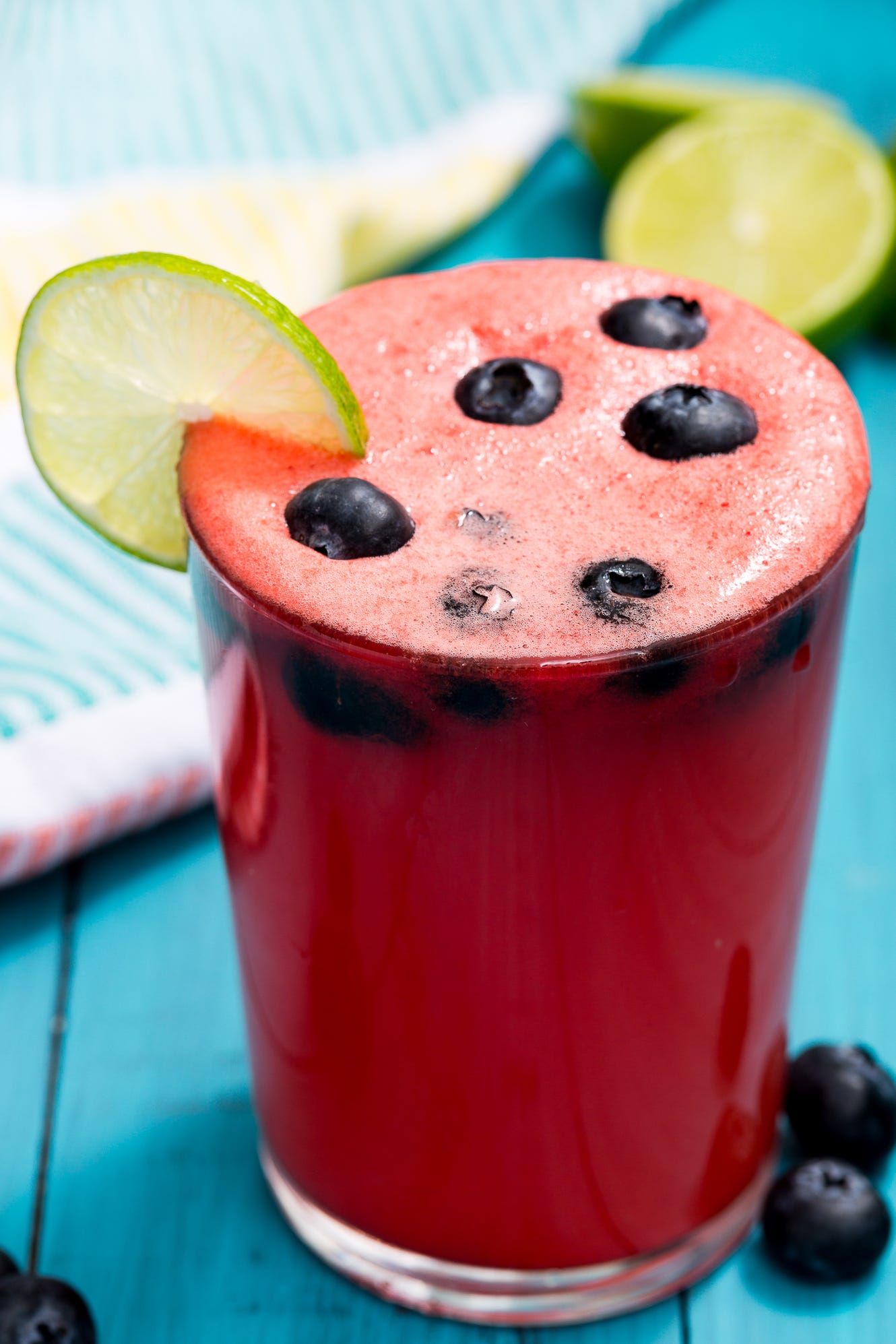 Ingredients:
4 c. cubed watermelon
1 750-ml. bottle moscato
1 c. rum
Juice of 4 limes
Zest of 2 limes
1 tbsp. sugar
lime slices, for garnish

Directions:
1. In a blender combine watermelon, moscato, rum, lime juice and zest, and sugar and blend until smooth. Refrigerate until chilled.
2. Garnish glasses with lime slices and serve.
Recipe from delish.com
2. Peach Melba Mimosas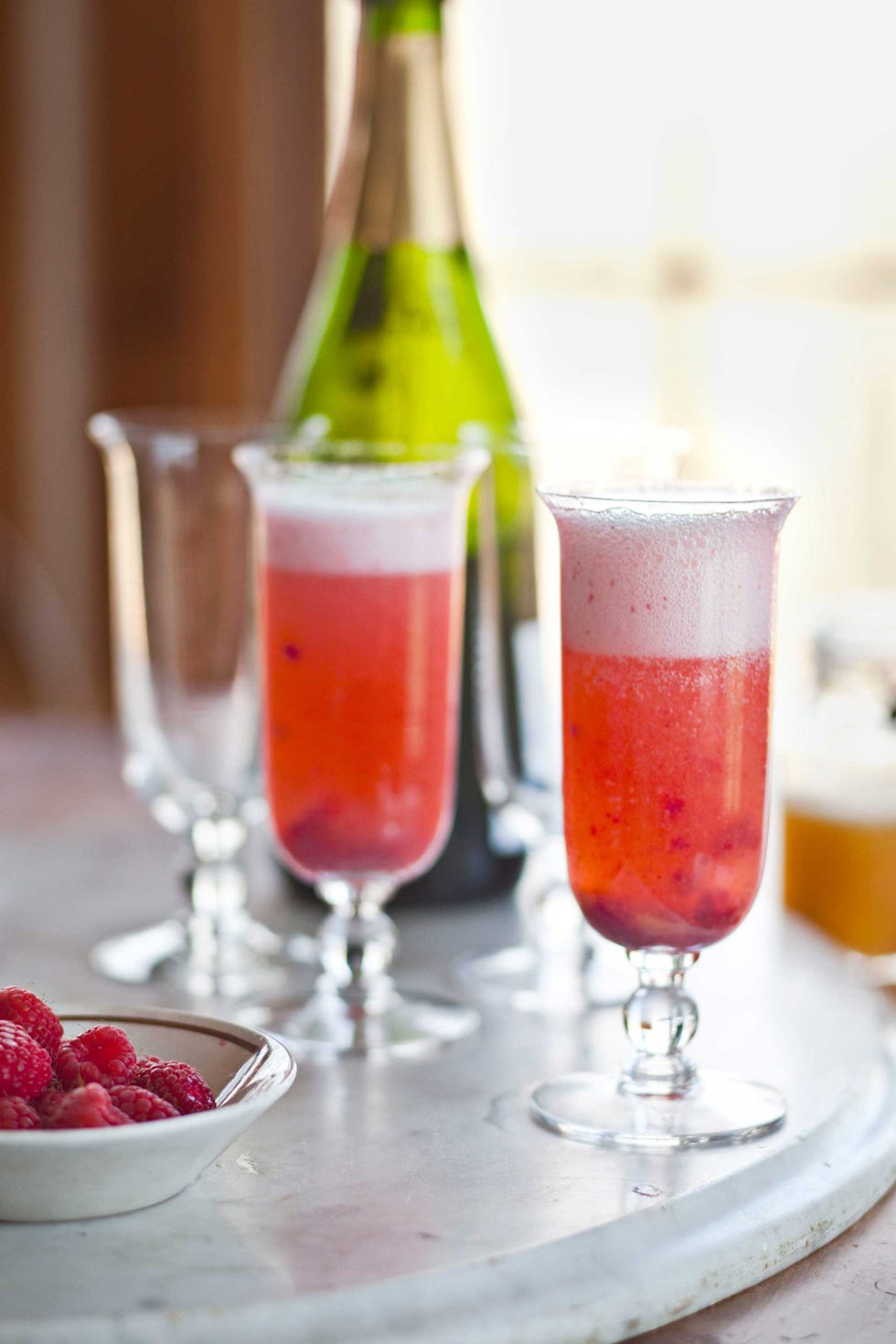 Ingredients:
1 1/2 c. thawed frozen raspberries
1/4 c. sugar
1 c. thawed frozen peaches
1 tsp. fresh lemon juice
2 bottle chilled champagne, cava, or other sparkling white wine
1/2 pt. fresh raspberries
Directions:
1.In a blender, puree frozen raspberries and 2 tablespoons sugar. Set a fine sieve over a small pitcher and strain puree; set aside.
2. Rinse blender, then puree peaches with remaining sugar, lemon juice, and 3 tablespoons cold water.
3. Spoon 2 teaspoons raspberry puree and 2 teaspoons peach puree into each glass. Top off each cocktail with champagne and garnish with fresh raspberries. Serve warm or at room temperature.
Recipe from countryliving.com
3. Blue Havaiyee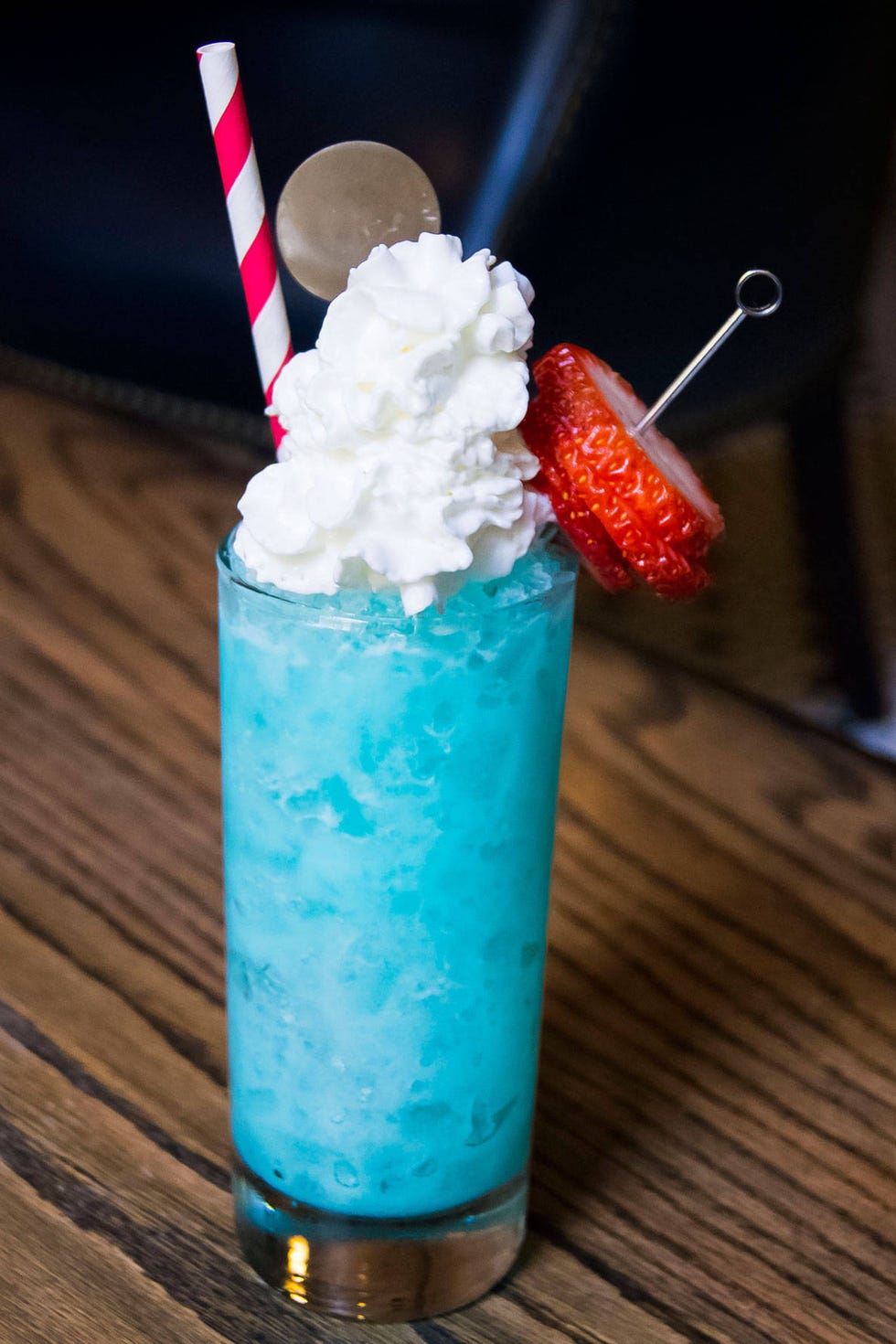 Ingredients:
1.5 oz El Dorado white rum
1 oz Blue Curaçao
.5 oz pineapple juice
1 oz coconut cream
1 strawberry
Directions:
Place all ingredients in a mixing glass, add ice, and shake vigorously. Pour into highball glass over crushed iced. Float heavy cream and add 1 sliced strawberry for garnish.
Recipe from townandcountrymag.com
4. Coconut Mango Mojitos
Ingredients:
6-8 fresh mint leaves
2 1/2 ounces of mint simple syrup
1 ounce of coconut rum
1 1/2 ounces of club soda
1-2 ounces of mango puree
the juice of one lime
Directions:
1.To make the mango puree, combine 1 peeled + chopped, ripe mango in a food processor (or high speed blender) with the juice of 1 lime, and process until smooth (or at least almost smooth).
2.In the bottom of a glass, add 1 ounce of simple syrup and the mint leaves. Muddle with a muddler or use the clean bottom of something blunt, like a screwdriver! Add ice to the glass, and pour rum, syrup, mango puree, lime juice and club soda over top. Mix with a long spoon or knife and serve with an additional sprig of mint.
3.Note: depending on the sweetness of your fruit, you may want to add more/less simply syrup, so taste as you go. Same with the rum – add more if you like your drinks strong. Malibu also makes a mango rum that you could combine with traditional coconut rum.
Recipe from howsweeteats.com
5. Fizzy Grapefruit Margarita
Ingredients:
3 ounces freshly squeezed grapefruit juice (about 1/2 large grapefruit)
1 ounce fresh lime juice (about 1 large lime)
1 1/2 ounces silver tequila
1/2 ounce orange liqueur, such as triple sec or Grand Marnier
Splash club soda
For the rims and garnish:
1 part kosher salt
1 part granulated sugar
Lime wedges, for garnish
Small grapefruit wedges, for garnish
Ice
Directions:
1.Begin by preparing the glasses: Place the sugar and salt on a small plate. Run a lime wedge around the edge of the glasses to moisten them, then tap the edges of the glass in the sugar/salt mixture so that it sticks. Fill with desired amount of ice and set aside.
2.In a cocktail shaker or lid with a tightly fitting jar, add the lime juice, grapefruit juice, tequila, and triple sec. Top off the shaker with ice, then close the lid and shake vigorously. Strain margarita into the prepared glasses, then top with a splash of club soda. Garnish with lime and grapefruit wedges. Enjoy immediately.
3.To make a large batch, stir all of the ingredients except for the club soda together in a pitcher and refrigerate. When ready to serve, fill individual glasses with ice, pour in the margarita mixture, then top each glass with a splash of club soda. Alternatively, you can add ice and the club soda to the whole pitcher just before serving.
4.The recipe as written will yield a more tart margarita. If you prefer a sweeter drink, add a half teaspoon light agave nectar, to taste.
Recipe from wellplated.com
Good luck trying out these recipes, ladies! I think they are going to be very refreshing for the hot summer months. I actually just got back from the store and bought all the ingredients for the Peach Melba Mimosa- YAY! Cheers to a great weekend!