The Downward Dog Test
Who here has ever bought workout leggings on a whim without trying them on? Picture me over here, sheepishly raising my hand...I always think to myself as I am shopping either in a store or online, "OH I must have these leggings! Look at the pattern! I don't have any leggings this color! They are sooooo cute! Oh but I don't have time to try them on!" BLAH, BLAH, BLAH! Ok ladies, but here is the problem with buying leggings on a whim without trying them on first-SO MANY OF THEM ARE SEE THROUGH!!!!
It wasn't until one of my favorite yoga instructors asked me, "Don't you do the downward dog test when you buy leggings?" I was thinking to myself-DUH Lisa, why didn't you think of that first???? So what is the downward dog test, you might ask? Well if you know anything about yoga, you know that downward dog is a yoga pose where your ass literally sticks right up in the air while you are basically in a bent over position. If you are wearing leggings that are made with a very thin fabric this will be the pose where you just expose your skivvies to the whole world! YIKES!
So here's what you need to do to make sure this embarrassing moment doesn't happen to you, my friends. Anytime you are in a dressing room, or at home if you are ordering online, you stretch those suckers on over your legs and then turn around so your back is to the mirror and hit your downward dog pose. (I literally don't care if someone sees my hands popping out of the bottom of the dressing room. Ladies this is a SERIOUSLY important research move that must be done!!!) Since you are upside down in downward dog, you should now be able to see your bum through your legs in the mirror, and MOST IMPORTANTLY, you can now see if your underwear is staring back at you! If you can't see your unmentionables, go ahead and buy those leggings girl! If you can see your unmentionables run fast and don't look back (in the case of ordering leggings online, go run fast to the UPS store to return those suckers)!!!
Here are my top 5 favorite tried and true leggings and brands that have always passed the downward dog test in my experience...
1.Alo Yoga
I have loved every single pair of ALO leggings I have ever tried on and own. The fabric has a thicker, quality feel to it, which always makes me feel more confident and comfortable wearing their products. You can also choose whether you want to buy their leggings that sit at your natural waistline, or they have AWESOME high-waisted varieties (which I LOVE with a shorter workout tank).
Price point: $$$ (higher end)
2. K-Deer
Seriously, these leggings literally feel like another layer of soft skin! They are so amazingly silky to the touch, and REALLY comfortable. They have a high-waisted band, which is VERY flattering when you have them on! And the best part is that they come in so many incredibly cute striped styles!
Price point: $$$ (higher end)
3. Athleta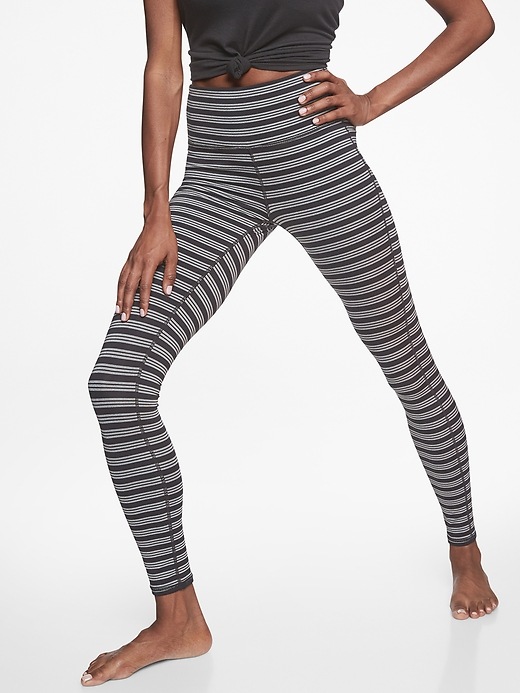 I think I could literally leave an Athleta store with a truckload of leggings (I don't think my husband would appreciate that very much, DANG). Again, I feel like the Athleta leggings that I have bought are worth the price tag because of the nice, thick quality of their fabric. My favorite styles at Athleta are the "Chaturanga Tights" and the "Salutation Tights". I have both in a variety of colors and LOVE, LOVE, LOVE them! A lot of the Athleta leggings come in regular waisted or high-waisted as well, and they come in a variety of sizes. I just feel nice and sucked into place, and ready to workout in these leggings. Check them out!
Price point: $$$ (most are higher end on price, but sometimes you can hit at a sale time-YAY!)
4. Fabletics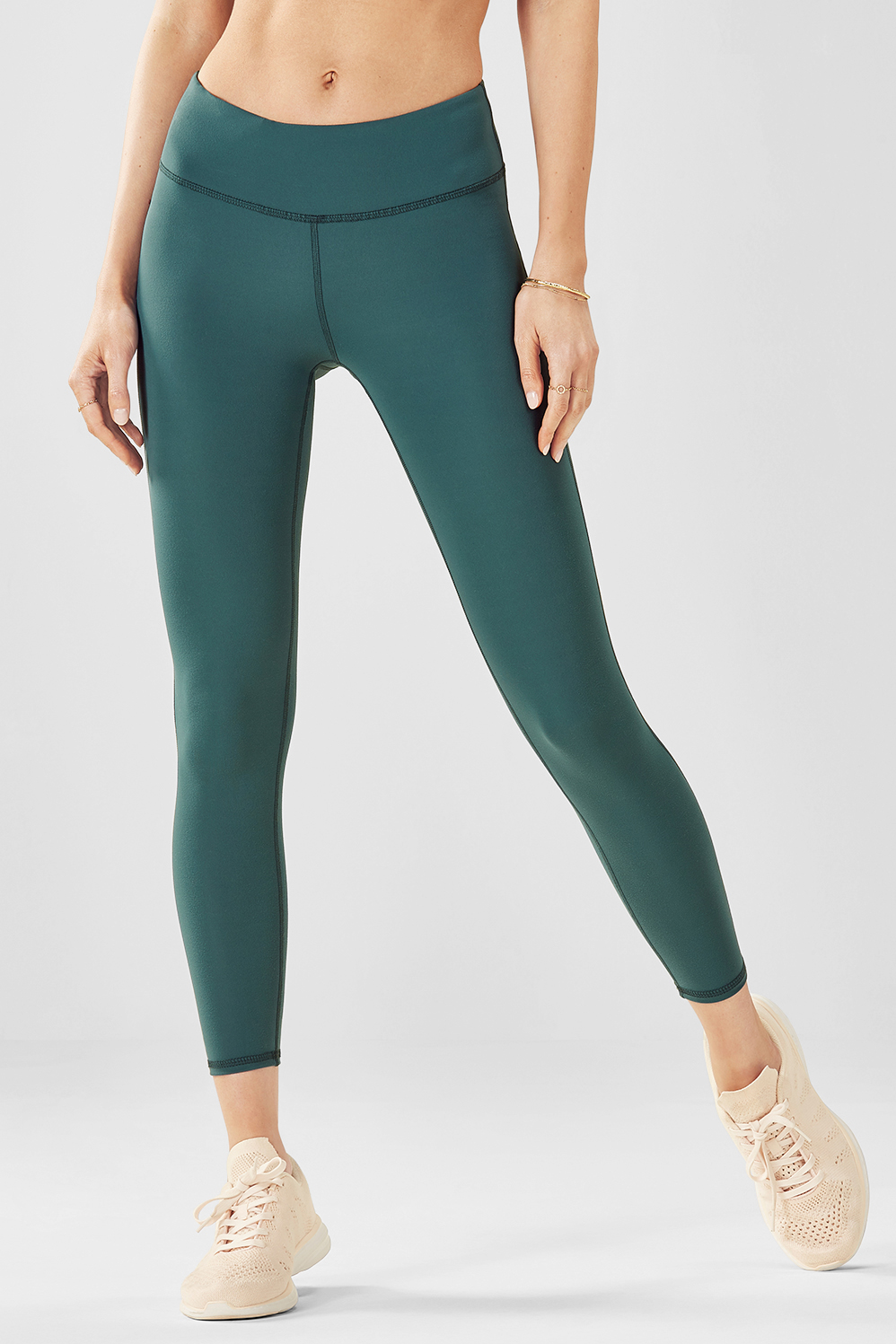 I love the "Salar" leggings from Fabletics. I have LOTS of pairs of these leggings in so many fun colors! They come in a very soft fabric, again with the option to choose regular or high-waisted. They wash really nicely too!! Sometimes you buy leggings and they start to wear away over time, but I have never had an issue like that with my "Salar" leggings. These too do a nice job of sucking you in and holding everything in place for more intense workouts. The one caveat with Fabletics is that you do have to sign up for what is kind of like a monthly membership, but if you don't want to purchase something that month you can skip the month. PLUS, your first pair are only around $30 usually! WOOT!
Price point: $$ (mid range prices)
5. 90 Degree By Reflex
I first found this brand by happenstance in a TJ Maxx store. I was not very hopeful because they seemed too good to be true- could these low priced leggings really cut it??? Man, was I proven wrong, because they definitely passed the downward dog test!! YES!!! They are actually really soft and comfortable, and are great at holding you in place as well. I did some research and have ordered MANY colors of these leggings from Amazon! Such an awesome find!!
Price point: $ (such a bargain!!!)
A couple of other brands worth mentioning are Zella leggings from Nordstrom and Express leggings. I have had some luck with both of these brands, but you definitely need to make sure to test them out, just to double check! I actually wear the Zella Live In Midi Leggings as everyday workwear type leggings with sweaters and tops because they are super comfortable, but I don't necessarily wear them to workout. As for Express, I have found most of their leggings labeled as compression leggings usually pass the test. (Both of these brands are at a mid price point-but DEFINITELY wait until you get a coupon or sitewide 40% off at Express, which they run a lot!!)
I should also mention that if you are a local SE Wisconsinite, you can get Alo, K-Deer, and many other awesome brands at the yoga studio boutique where I take classes, Yoga On the Lake! They don't have an online shop, but it's definitely worth the trip to check out their swag and amazing classes!!
There you have it ladies! I hope some of these brands work out for some of you! As I said in my very first blog post, take everything I say with a grain of salt. What has worked for me, I am crossing my fingers will work for you too-but if not, I would love to hear your feedback and hear what legging brands you have tried and love! I am always up for trying something new!
Good luck shopping, gals!