What Does Your Shirt Say?- Buying the Best Graphic Tees
Have you guys ever read the Huffington Post's segment on "if you relate to these tweets, then you are probably married"? I read their round up of tweets (seriously click that link people, you won't regret it) when they publish them, and it just cracks me up! Of course I read them to Aaron, and we usually take turns rolling our eyes in sympathy for either the husband or wife, but man, are they funny because they are SOOO ACCURATE. If you don't follow the Huffington Post on Facebook or Instagram, YOU SHOULD, because they periodically post these hilarious round ups. As I am reading these one-liners I'm usually thinking, I wish I had a tee that said that!
Obviously I am a huge sucker for any kind of meme, joke, or saying. I pin that stuff on Pinterest like it's going out of style. AND, my friends and I text each other our findings back and forth on really stressful days to get some laughing endorphins pumping throughout our bodies so we don't EXPLODE...OR, we text a good pick-me-up to remind each other that we will SURVIVE this craziness called LIFE! Let's be real, by Friday we are all SUPER stressed, so I always know I'll get back to my desk and find an end of the week meme waiting for me on my phone.
I actually find it kind of therapeutic to pin memes during my crabbiest moments in life to either laugh my way through it, or hold tight to a great quote as a mantra to get me to the other side. Either way, Pinterest has seen me through some of my darkest hours, HAH! AND, there have been so many times that I have thought to myself, WHOA, this quote definitely needs to find its way onto a graphic tee! Which is why I get SO pumped when I find a place that actually makes these gems into t-shirts! So exciting!
So where do I find some of my favorite graphic tees, you ask? I am linking my top 5 favorite places to shop for graphic tees, and my favorite graphic tee that I have found at that place. Check it out by clicking the name of the site, or by clicking the pic of the tees...
I love the Saturday Morning Pancake tees! They have SO many great tees and some sweatshirts as well. They even have some ADORABLE tees for the minis in your life. The awesome thing about this site too is that they come out with new tees all the time, so I signed up for their email alerts that they send when a new tee is dropping. Check them out!
I have lots of Spiritual Gangster tees that I got from my yoga studio, and I LOVE them all! When you get to their site you need to check out their tanks, tees, and long sleeve shirts to find their graphic tees. Most of the sayings on their shirts are more inspirational and all about spreading positive vibes in life, which I adore!
Ily Couture has some super fun graphic tees and sweatshirts when you search in their "Graphics" section. I especially love checking out their site during different holidays because they usually have some fun holiday tees that come out! Their sweatshirts are super soft, and I feel like you are getting a good quality product. They wash really well too!
OH MYLANTA! I literally should not visit this site because I want IT ALL!! This is a new find for me, and I literally just ordered three new tees last week from them. BUT, these are such a STEAL! Most shirts are around $12, and for most you can choose if you want a tank or a tee, and the color. HELLO, AMAZING!! Best part-the sayings are hilarious!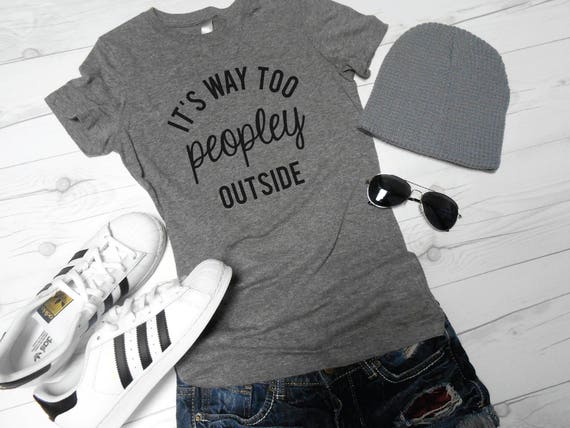 If all else fails ladies, try ETSY! Just type "graphic tees for women" into Etsy's home search engine, and search away! Literally 250 pages of products come up for you to pick through, and the best part is that you are supporting a small business owner through all of your Etsy purchases! I have even typed in a specific saying or phrase that I have wanted on a tee in the search engine to see if anything comes up for sale, and I have actually had success with that! Otherwise there are many Etsy shop owners that are willing to do custom orders if you contact them with a specific saying that you want on your tee. WIN, WIN!
An honorable mention that I should also link, is VICI- the graphic tee I am wearing in the photos below (already sold out super quickly) came from this boutique, and they do stock some really fun options! You just have to keep an eye on their website often, because they don't have a specific category for just graphic tees- you usually just have to search through their "tops" section, and things sell out fast.
One question many gals have is how to style a graphic tee. Obviously a graphic tee is more casual and will always look good with jeans or leggings and some sneakers- BUT, I do like to play with dressing my tees up a little bit. I like to find a fun jean jacket or blazer (see photos above), with some fun accessories and heels, to give my look a little extra boost. Then I don't feel so bad wearing just a tee to work! Trust me, I have learned over the years that you can make any article of clothing look as chill or dressy as you want with the right things to accompany the look. Go with what YOU are comfortable with though, friends. AND, as always I hope you find some of these sites fun and useful! Happy Tuesday, and may you find the graphic tee of your dreams!